We'd like to introduce to you the latest product from Phonak, the Audéo Paradise hearing aids. These revolutionary hearing aids are inspired by nature, as nature is the source of so many sounds that can soothe, relax and comfort us.
Comprised of all new hardware, Paradise takes hearing performance to the next-level by offering not only crisp, natural sound but also several new features.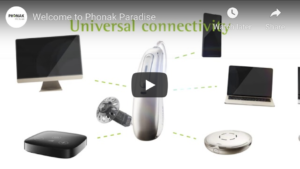 Speech Enhancer
Understanding someone who is speaking softly or speaking from a distance in a quiet environment is challenging.
Phonak Audéo Paradise approaches this challenge by boosting soft-level speech with an innovative feature called Speech Enhancer.
Personalized Noise Cancellation
It sometimes takes effort to follow conversations when speech is coming from the front and noise is coming from the side and back. This can often vary depending on the type of room you are in, or even how you feel during that time. With the Dynamic Noise Cancellation you can personalize the amount of noise cancellation you want all in real-time – all through the myPhonak app.
Motion Sensor Hearing
Having a conversation with someone especially while walking can be challenging. Even more so in a noisy environment. The Motion Sensor Hearing feature works together with the hearing aid chip to detect if you are stationary or moving, plus how noisy the surrounding is.
Once the activity and noise level is determined, it seamlessly steers the microphone mode and Dynamic Noise Cancellation settings.
Voice assistance access at a tap
Imagine answering phone calls, streaming or pausing music, and activating voice assistants just by tapping your ear. A motion sensor in Phonak Paradise offers you an effortless way to do all that and more. The built-in microphone allows you true hands-free calls and voice assistant activation.
Connects to smartphone, TV and more
Phonak Paradise connects directly to your iOS®, Android™ or other Bluetooth®-enabled devices so you can stream audio in excellent quality directly to your hearing aids. Plus, as an added convenience, you can simultaneously connect to two Bluetooth devices and seamlessly alternate between the two.
Empowering smart apps
Control your Phonak Paradise hearing aids, access useful features and personalize your settings all through the myPhonak app. It's the best way to get the most out of your hearing aids.
To learn more about Phonak Paradise click HERE