Starkey Evolv AI
Explore the new Starkey Evolv AI hearing aids
Effortlessly connect to better hearing.
Effortless hearing. Effortless living.
Our most advanced hearing technology gives you the best Starkey Sound™.
Evolv AI hearing aids boast our most exceptional Starkey Sound yet. With up to 55 million personalised adjustments every hour, Evolv AI is expertly designed to automatically deliver realistic and genuine sound quality in every listening environment so you can hear and enjoy life.
A style crafted just for you.
Exceptional sound quality in a full line of our most innovative hearing aids. That's what we call effortless hearing.
From our smallest to our most powerful, Evolv AI offers a complete line of our most advanced hearing technology. Compared to previous technology, Evolv AI provides an additional 40% reduction in noise energy designed to reduce listening effort. Effortlessly enjoy every moment with the hearing aids that fit seamlessly into your lifestyle.
When it comes to better hearing innovation, you can expect effortless.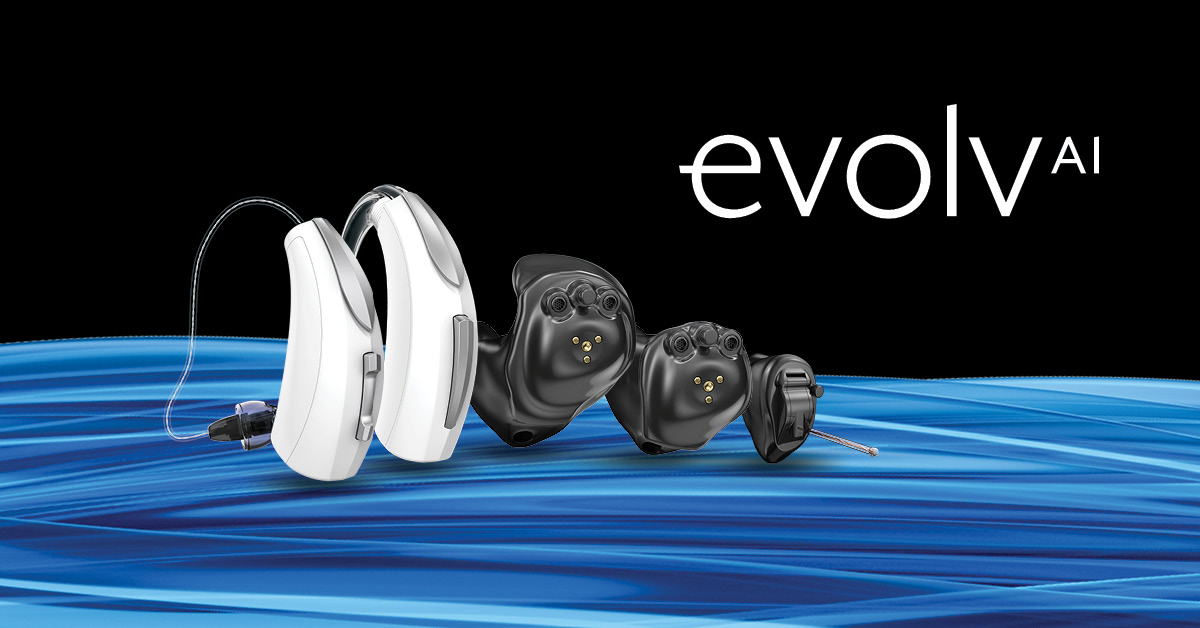 Effortlessly connect to better hearing.
A complete line of the world's most innovative hearing technology connects you to your favourite moments.
Evolv AI offers friendly AI paired with our newest and most advanced connectivity ever. With improved connection, more Android connectivity than ever before, and our best sound quality, you can experience and enjoy your favourite TV, music and conversations. A full line of hearing aids automatically connected to your lifestyle makes better hearing effortless.
Introducing 2-Way Audio.
Hear and connect effortlessly with hands-free conversations.
Now, Evolv AI hearing aid microphones pick up and stream your voice directly back to iPhone and iPad,* allowing you to seamlessly talk hands-free.
Explore The New Starkey Evolv AI  Hearing Aid Features
Hearing Performance
Exceptional Sound Quality
55 million automatic adjustments every hour to deliver realistic and genuine sound quality in every listening environment.
2-Way Audio
Now, Evolv AI wireless hearing aid microphones pick up and stream voices directly back to select iPhone and iPad models, allowing you to seamlessly talk hands-free.
Rechargeable
Complete line of rechargeable hearing aids, including the world's first and only 2.4 GHz custom rechargeable hearing aids.
Edge Mode
Hearing better in challenging listening environments is easy with our friendly, on-demand Artificial Intelligence feature that works with or without the Thrive app.
Voice AI
Thanks to the power of AI, this always-learning speech enhancement feature uses your iOS smartphone to deliver an unprecedented experience for those with moderate loss of 50 db HL or greater.
Streaming
Enhanced performance now lets you enjoy your music or favourite TV shows like never before.
Personalised Memories
Create multiple custom memories including geotagged memories like, "coffee shop" or "home."
Remote Control
Easily control memory and volume, mute hearing aids and turn other special features on and off.
Auto On/Off
Automatically and conveniently saves battery power when your hearing aids are not in use.
Healthable Technology
Activity Tracking
Tracks daily steps, measures movement and monitors more vigorous physical activity.
Engagement Tracking
Monitors the health benefits of wearing hearing aids by tracking things like active listening.
Fall Detection and Alerts
Detects if a fall occurs while you're wearing your hearing aids and sends an alert message to selected contacts.
Information Assistant
TeleHear Remote Programming
Even more flexibility and fine tuning for your hearing aids, wherever you are. Your audiologist can seamlessly make adjustments virtually to your hearing aids.
Find My Hearing Aids
Helps you easily locate misplaced hearing aids providing a location and a timestamp.
Tap Control
With just a double tap, our hearing aids can be set to activate Edge Mode, Thrive Assistant or Start/Stop Audio Stream from 2.4 GHz accessories.
Self Check
Provides a quick, convenient way for you to analyse your hearing aid system's performance.
Thrive Assistant
Provides quick answers to questions like, "how do I adjust volume?" or "what's the weather?"
Translate
Patients can communicate with people who speak other languages.
Reminders
Provides the option to schedule alerts for things like taking medications and other personal tasks.
Transcribe
Conversations are transcribed into text that can be saved or shared.
2.4 GHZ ACCESSORIES
All Evolv AI and Livio hearing aids connect simply and easily to any modern smartphone, television or media device to stream phone calls, music, voice assistants and more.
The Thrive platform, with its new dual radio wireless connectivity, provides you with important binaural features as well as universal Bluetooth® connectivity to our sleek line of 2.4 GHz accessories.
These patient-focused accessories are easy to pair and use, and they provide supreme sound quality.
To find out if Evolv AI is right for you, contact us to book your hearing assessment today at your nearest practice.
Are you looking for a hearing test in Pershore, Redditch, Evesham, Kidderminster or even Droitwich?
Worcester and Stratford Hearing Centres are just a short drive away.
Find out which of our two practices is closer to you and book your hearing assessment today.