Looking For The Best Hearing Aids in Worcester or Stratford Upon Avon?
We provide the very best hearing aids from global leading brands such as Phonak, Oticon, Widex and others. As an Independent hearing care business, you can be sure that we will recommend the best solution for you based on your hearing loss and your needs.
Book Appointment
Hearing Aids from the best hearing aid brands, in Worcester & Stratford
At WS Hearing, we know that the hearing aids you may wear are an important part of the solution to your needs. We only supply the very latest hearing aids from the world's best manufacturers as part of our tailored solutions.
Hearing Aids themselves are far removed from the traditional 'Beige Bananas' they are often associated with. Modern hearing aids are discreet, digital devices with incredibly sophisticated technology. For example, they feature Bluetooth technology which enables them to be paired with wireless devices such as phones, your iPod and televisions, to ensure that you get the most out of your hearing aids.
WS Hearing are proud to present the world's only 100% invisible hearing aid, Lyric – one of only a select group of hearing aid dispensers in the country who are able to offer this product. The Lyric is just one of the hearing devices that we offer at our hearing aid centre in Worcester and our hearing aid centre in Stratford Upon Avon, we have a huge amount of choice with hearing instruments available to us from leading hearing aid brands like Widex, Phonak, Starkey, Unitron, Oticon, Signia and Resound. Each hearing aid brand offers something a little different. It allows us to carefully choose the best solution for each customer.
Real Ear Measurement
We use Real Ear Measurement when we fit your hearing aids to account for the individual acoustic characteristics of your ear canals. To ensure you are getting the optimum level of amplification, a special microphone analyses the sounds pro­duced by the hearing aids in your ear canal.
Real World Fitting
We don't just fit your hearing aids in our quiet office…
Call us on 01789 264 111 to book your assessment in Stratford Upon Avon or 01905 617803 to book your assessment in Worcester now, alternatively, book online by using the button below
Hearing Aid Manufacturers At Worcester & Stratford Hearing Centres
Your Journey to Better Hearing
You can always be sure of a warm welcome at our hearing centres. As a local independent family run business we understand why people are drawn to us rather than a large chain. You are never a faceless patient number at our practice, you are part of an extended family. At Worcester & Stratford Hearing Centres, we guarantee you'll get the professional, expert hearing healthcare service that you deserve.
Satisfaction Guarantee or a 100% refund for your hearing aids.
The hearing aids are just the beginning
The hearing aids we recommend are just a part of your customised solution, the key to your continued success is continued care.
Mission Statement
We empower you to lead a socially active and engaging lifestyle.
We give you the opportunity to enjoy conversation and interaction. To reconnect with the world of hearing and all of nature's wonderful sounds, enabling you to wholly appreciate our beautiful surroundings
Our Promise
We offer so much more than just hearing aids. We are the centre and the team that look after you.
All of our hearing solutions are bespoke to you.
We don't provide anything off the shelf. We provide a careful selection of the optimum hearing systems to meet your needs.
Initial Assessment
First of all, we want to get to know you. During your initial consultation, your audiologist will assess your hearing and your needs based on your evaluation results and your lifestyle.
Our advanced diagnostic hearing evaluation includes:
Video view of the inside of your ear

Tympanometry and middle ear anatomy test

Pure tone audiometry

Speech in noise testing

Acceptable noise level testing

Explanation of your hearing results

 

Advice on a suitable hearing system if required.
Our Guide to Better Hearing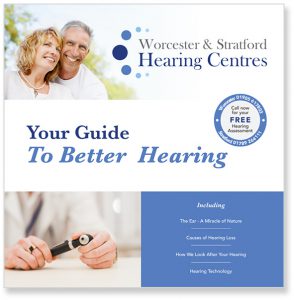 We thought it would be a good idea to make an easy reference guide for our customers and for others looking for information. So we launched the Worcester Hearing Centre Guide:
Who we are
What we do
How we can help
Our commitment to you
We hope you find it useful, it is a free download, click below to download it. You can to save to read later on any of your devices. Please feel free to share it around if you wish.
Experienced Healthcare
Over 30 years' experience delivering the best hearing aids backed up with a strong belief in customer service and aftercare. Offering the very best level of bespoke hearing care, tailored to suit all hearing needs
Completely Independent Advice
As a completely independent hearing healthcare provider we can offer you un-biased advice on the best hearing aid solution for your hearing loss
The Best Solutions
We only offer the best hearing aid solutions available from the very best hearing aid manufacturers. So you can be guaranteed that the solution you are offered is the best available
Watch what our customers have to say